Epic of Gilgamesh: Holy Nights 2021-22
We are looking forward to the Holy Nights, a time when we can turn inward and retreat from "busyness" as usual. This year, we are excited to host a special program during this time, a storytelling event that will bring the ancient Sumerian saga "The Epic of Gilgamesh" to life. Register here today!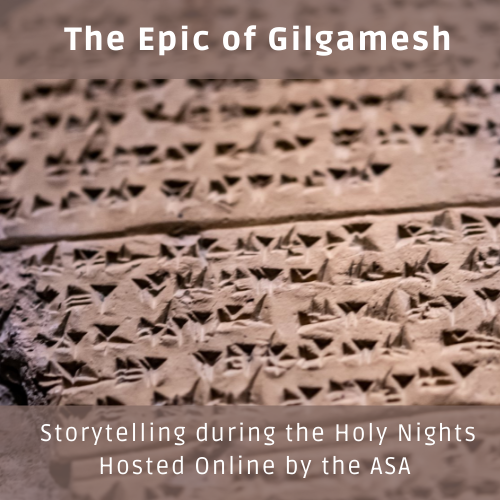 What: The Epic of Gilgamesh: Story Telling During the Holy Nights hosted by the ASA, Hazel Archer, and friends around the country. 
Time: 22 minutes daily at 9 am PT / 12 pm ET
Dates: December 24, 2021- January 5, 2022, for 13 consecutive days
Can't join us live? No problem. Each gathering will be recorded and posted on our Holy Nights page (link emailed upon registration).
How: Register Here! Then check your email for confirmation with the Zoom registration link. 
Cost: Your donations help us create events like this one! This event is free with suggested donations of $25, $50, $100
And if you wish to catch up on events you missed this past year, we have many program recordings up in our store, including the first six sessions of our year-long program with Mary Stewart Adams and Lynn Stull,  "The New Images of the Zodiac in the Cycle of the Year".  Check them out as well as additional resources about the Holy Nights.  These recordings also make excellent gifts! 
We look forward to connecting with you this season.
Warmly,
Tess Parker ASA Programs