Closing Remarks from the AGM, October 9, 2023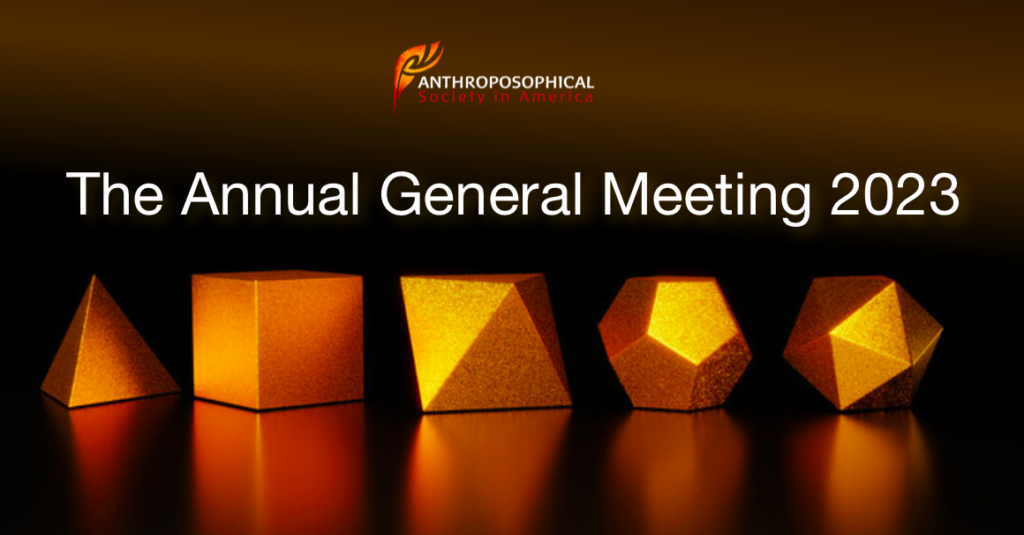 Greetings Members, Colleagues, Friends,
I am inwardly full from my recent days at the World Goetheanum Conference (1000 people, 50 countries) and my final meetings with General Secretaries and Country Representatives from around the world. These dear colleagues are present for me in my heart along with you members, and the many who have crossed threshold of death. You all stand here with me. My hope is that some sense of a World Society is present here, even if we gather online.
I first want to open these remarks by expressing my appreciation for my Stewards Group colleagues Tess and Eddie who have truly stepped up in this time of transition. And further, Council Members, and Council Chairs: Carla Beebe Comey, Dave Alsop, Helen Ann Ireland and Gino Ver Eecke. I also would like to speak my appreciation for members of the North American Collegium of the School for Spiritual Science, Class Holders, and co-carriers in the Council of Anthroposophical Organizations.
I also acknowledge and thank the many of you wrote to me regarding the "From the General Secretary" letters sent during my tenure. I would wish that I had the time to respond to you all; instead consider that your thoughtful and willing engagement provided inspiration to write more.
I also want to welcome and encourage the 1,300 members who have joined the Society since 2016 when I started. Along with your fellow existing 2800 members, I hope you have been nourished and inspired as a result of your commitment and see yourselves continually deepening your path of self-knowledge. Joining the Society is a way to be fully present in the world in order to support others along their respective journeys. There is so much healing to be done—recognizing others' striving and demonstrating sincere interest is a step in that direction. I feel fortunate to be supporting Mary Stewart Adams as she steps newly into the work of the General Secretary.
There is so much to say about the last 7 years. Who could have imagined how much would have shifted in the cultural, economic, and rights spheres in the US between October of 2016 when I began and now as I step away from being my responsibility as General Secretary. This time period is worthy of a special issue of being human which we are working on even as I speak.
One could create a laundry list of questions, speak to the extended periods of COVID isolation, the vagaries of online life, climate chaos and natural disasters, an equally chaotic media climate, and continued violence against lives. It seems the quest for power over others has created a kind of corruption of many of our relational and governance systems.
And here we are, connected to Rudolf Steiner, anthroposophy, and the Anthroposophical Society in the US, with the question of our inheritance, and what we can do with it after one hundred years to bring about the social and spiritual healing impulse that is borne within it. We also have the task of finding what we as a US Society can contribute to the continuing evolution of the world Society. That transformation will be a measure of how we can continue to deepen and leverage our inheritance for the next generations—if we can find our way to and through that transformation. The gathering of the movement in May in Spring Valley which included members from the US Council, Canadian Council, the North American Collegium of the School for Spiritual Science, Class Holders from the five North American regions (3 in the US, Canada, and Mexico) and from the Council of Anthroposophical Organizations, along with two Colleagues from the Goetheanum Leadership, was a collective stride in the direction of renewing the coherent impulse of the Christmas Conference. It was just a beginning of renewal for the wellbeing of Anthroposophia for next 100 years.
_______
The capacity to be present with that which presents itself is a spiritual activity—whether in our thoughts, feelings, actions, or relationships. Life is not a theory, but rather a flow of wonderment, realities, and a constant state of inquiry. The beauty, truth, and goodness of anthroposophy is that within this inquiry is a living awareness of a spiritual world, the real world in which we all live and of which we are but momentary expressions at any given time. That we can slowly but surely become aware that we are embedded in this world, and that we have a science of the spirit and spiritual beings to guide us is one of the greatest offerings of anthroposophy. The challenge and beauty is that each of us is free to undertake this arduous and luminous journey.
At the gathering of the movement in May, we opened engagement by setting up conversation tables and rotating participation on a timed basis. I had the joy of holding table for one question: When have you found yourself in circumstances in which you wished you had been a better anthroposophist? Great question, no? Every one of the forty participants had the opportunity to respond. The pattern of those responses was illuminating—and inspiring. To paraphrase: "I cannot separate being a better anthroposophist from being a better human being." On one hand this seems so simple and direct, and maybe obvious, on the other, the complexity of being human and being fully in service to another human being or social circumstances is not so simple. For me one of the key capacities needed is listening, deeply listening, to hear what is alive in the world—its messages, musicality, and meaning. This is a gift we can offer Anthroposophia. This listening, attending to another in service is what we are here to do and I hope we have made some progress in that direction over the last seven years.
Thank you.

John Bloom