The "Calendar of the Soul"
The 2022-2023 guide below has been updated with a guide for 2023-2024…
In 1912 Rudolf Steiner provided a "calendar of the soul,"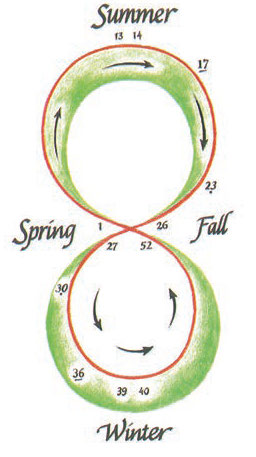 weekly verses that express how the changing seasons in the natural world and in our own inner lives are helping our consciousness evolve.
[Herbert O. Hagens has prepared dates for the Calendar
for 2022-2023 and 2023-2024.]
In an article first published in Orion magazine in Autumn 1999, "The One Life Within Us and Abroad," Prof. Gertrude Reif Hughes describes Steiner's Calendar as a personal awakening. "That year I became able to "read" the Soul Calendar as Steiner designed it to be read—meditatively.
The Calendar began to offer its gifts to me, and for the next seven years I worked with it almost daily. I saw that the verses are more like koans than poems. The descriptions not only represented processes around me but awakened me to processes occurring within my soul. Earlier I hadn't felt that echoing, which is fundamental to the Calendar. Now I began to confirm it in my own experience.
You can read Prof. Hughes' full article, reprinted in the Fall 2012 issue of being human, as part of a special centennial section on the Calendar linked here.
The Calendar of the Soul Online
There are several editions of the Calendar of the Soul on the internet. The one at the Lili Kolisko Institute allows you to click through to Steiner's eurythmy for that week's verse. This version offers many translations with original text, and other special features. (If initially you see only the German, hover your mouse pointer over the text to see options.)