Newsletter from the Natural Science Section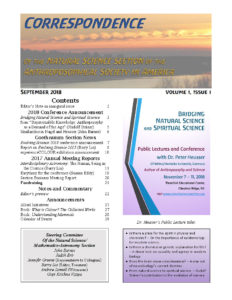 Dear Friends,
We have asked the Society to distribute this inaugural issue of the Correspondence, a newsletter of the Natural Science/Mathematics-Astronomy Section of the School for Spiritual Science to all members of the Society. The Section aims to become more visible and step up our service to the Society.
You must subscribe, if you want to receive future issues. They will also be archived on our website. [Links are below, and on page 2 of the first issue.]
Why would you want to subscribe and stay in touch with our activities?
This is spelled out in the Editor's Note on the second page. We feel that this work is important for all of us in the Anthroposophical Society, not just our Section. As you will read, the Correspondence is intended for colleagues outside of the Section membership, as well as a wider readership concerned about science and technology in today's culture.
Second, in this issue we want to announce a major conference in Spring Valley this November. We have invited Dr. Peter Heusser of Witten/Herdecke University, Germany, author of the book Anthroposophy and Science, to give public lectures and work with us on the epistemological foundation of Anthroposophy and Science as applied to the various fields of science, from physics to psychology.
Dr. Heusser also applies this foundation in the scientific justification of Spiritual Science as a valid empirical science. This is actually being sought on the frontiers of conventional science and philosophy today. We also are honored that this aim will be furthered at the conference through daily eurythmy with Dorothea Mier, former Artistic Director of Eurythmy Spring Valley.
It may go without saying that it is important that all members of the Society know that there is a valid scientific basis for a monistic science of spirit/matter and even that they know what that basis is. We are looking forward to Dr. Heusser laying this out at our conference, as he does so well in his book. (Videos of his public lectures will also be available on the Society's website.)
So please look over our Correspondence [linked here]. We hope that many of you will take interest in our activities and subscribe to our monthly newsletter. And we hope to pull many of you into those activities, whether you are scientists or not. We have welcomed artists, doctors, teachers, and farmers at our meetings to the enrichment of us all. (And each of these folks will find a little something in this issue.)
We would welcome your feedback.
Warm regards,
The Steering Committee:
John Barnes, Judith Erb, Jennifer Greene, Barry Lia, Andrew Linnell, Gopi Vijaya
Links:
PDF of the first issue: https://secure.anthroposophy.org/neon/resource/anthroposophy/files/Correspondence_v1-1.pdf
Email for subscribing: subscribe@naturalsciencesection.org
Email for feedback: editor@naturalsciencesection.org
Section website: https://www.naturalsciencesection.org/correspondence/