Sophia Community Circle – May 5th
The term anthroposophy should really be understood as synonymous with Sophia, meaning the content of consciousness, the soul attitude and experience that make a person a full-fledged human being. The right interpretation of anthroposophy is not "the wisdom of man", but rather "the consciousness of one's humanity."
—Rudolf Steiner, Awakening to Community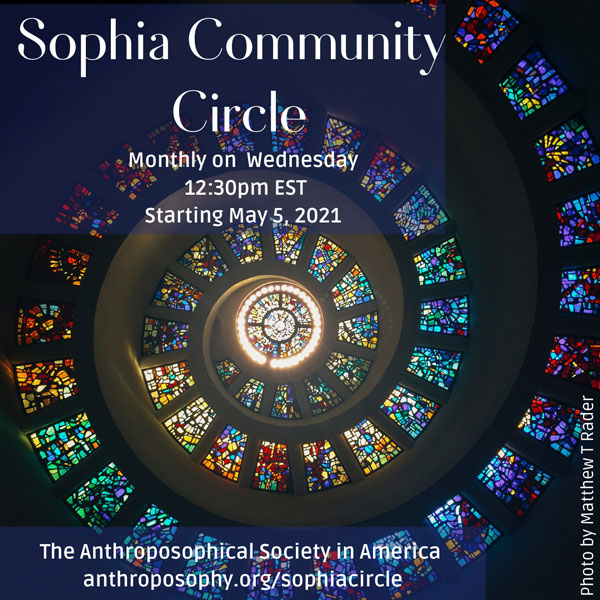 Come together in community to explore the mystery and experience of the divine feminine, Sophia, in our time. This 12-part series will occur monthly on Wednesdays from May 5, 2021 through April 6, 2022.
What: ASA Sophia Community Circle hosted by members of the Sophia Group.
Click here to see the full line-up of presenters!
Each unique 45 minute session will include a leading thought or experiential activity + breakout spaces & large group sharing.
When: Wednesdays at 12:30pm Eastern/ 9:30am Pacific for 45 minutes. See all dates on the registration page!
How: Register Here! Then check your email for a registration confirmation. Share with your friends–our events are open to all! Registration closes May 3, 2021.
Cost: Flexible registration levels–$60 and up for the full 12 month series. Contributions help support Sophia work and financial assistance for the upcoming Sophia Conference in April 2022.
We look forward to seeing you there!
Warmly,
The ASA Programs Team
Laura Scappaticci and Tess Parker