The Story in Our Stars for 2019
Look ahead at the year in the stars with Mary Stewart Adams, Star Lore Historian.
The Story in Our Stars for 2019 – now available recorded in the store!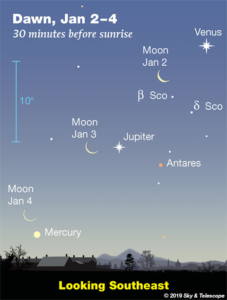 Recorded: Wednesday, March 6 from 7:30-8:30 pm Eastern
Where: Available in our store
Why: "The year 2019 started with the crescent Moon waning past the planet Venus at dawn on January 1st, and it will end with the waxing crescent Moon sweeping up past Venus at dusk, where the goddess of love and beauty will then be the lone evening planet. This image of Venus in the chalice of the Moon is a strong symbol of the Holy Grail from the mystery wisdom of the Middle Ages, and serves as a celestial signature for the entire year, beginning at dawn on New Year's Day and completing at dusk at the year's end. Such a configuration lends itself to imagining that 2019 is the year of the Sacred Quest, which is augmented by the fact that the planet Mercury will also make one of its rare transits of the Sun in 2019, on November 11th." 
Bring your notebook, calendar, and enthusiasm!