Being together: a true spiritual deed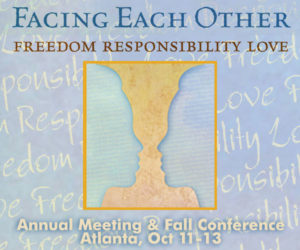 In just a few days, we will gather together in a community of consciousness to explore the themes of Freedom, Responsibility, and Love.  We hope you will be able to join us face-to-face in Atlanta, but if you can't, we invite you to participate from the comfort of your own home.  (Note that online registration is closed but you can register on site!)
Click here to register for our free livestream of ASA organizational updates on Saturday, October 12 from 2:45-3:15.
Click here to register to watch the conference keynotes:
with Patrick Kennedy (October 11 from 1:30-2:30pm Eastern Time) on
Love and Knowledge – How Practicing Spiritual Science Means Becoming Truly Social, and
Andrea De La Cruz (October 12 9:00-10:00 am Eastern Time) on The Future of our Society: Freedom, Commitment and Youth
The suggested contribution is $40, but give any amount you see fit.
If you aren't free during these live times, no problem. All registrants will receive an emailed recording of the updates and keynotes.
Some Facing Each Other conference highlights
Thursday:
Living In The Branches National Branch and Group Gathering
followed by a Regional Meet & Greet and
Facing Technology Panel
plus a Youth Gathering starting Thursday afternoon.
Friday:
Songtrail with Marianne Fieber and Friends,
Class Lesson,
Keynote with Patrick Kennedy,
ASA Organizational Updates,
Workshops and evening Contra Dancing
Saturday:
Keynote with Andrea De La Cruz,
Workshops,
Participant Research Sessions,
evening performances including No Ke Ano Ahiahi-Dusk with Joshua Gartland and Ensemble, and
Cosmic Journey with Eve Olive
Sunday:
Early morning gathering at MLK Tomb,
workshops and closing plenum
plus two post-conference sessions
See the full schedule here and register now!
Youth rate just $60. Scholarships available.
Hope to see you soon,
The Facing Each Other Conference Planning Committee
Charlie Burkam, Angela Foster, Dave Mansur,
Tess Parker, Laura Scappaticci